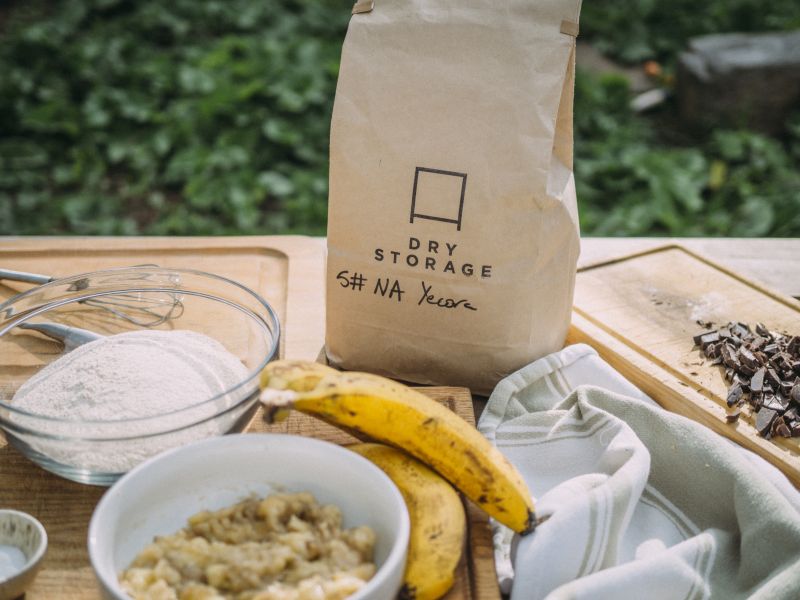 The Mad Agriculture Journal
Recipes from the Grain Revival: Banana Bread
Published on
June 01, 2020
When I was six years old my grandmother taught me how to make deviled eggs so that I would "never go to a party empty handed." In my family, good food is the common thread at any gathering. After my grandmother taught me to never show up empty handed, I started baking nonstop and eventually made my way into the world of sourdough. Since moving to Boulder, my perspective on baking has changed. 
Boulder has created unique momentum behind the growing, milling, baking, and eating of heritage and ancient grains. Within the past couple of years, I have encountered three farms growing out experimental grains and two bakeries milling, baking and selling regional grains onsite. As my personal journey into sourdough experimentation has continued to deepen, I have had the opportunity to work with varieties such as Rouge de Bordeaux, Spelt, Blue Emmer, Yecora Rojo, Rye, White Sonora, Turkey Red, and Clark's Cream. Once I started baking with fresh flour it became difficult to turn back to the anonymous bags of all-purpose I had been finding in the grocery store. I often found myself diving deep into research on each new variety I came across to establish where it came from and how others have used it. Other times when working with a new variety, I would simply let my intuition take over, jumping into the experience blind. With each iteration I noticed the nuances of these novel grains in my baking. I began to treat whole wheat flour less like a uniform ingredient and more like I would a spice in my cooking. I can now tell you that Rouge de Bordeaux has a distinctly cinnamon-y aroma.
One morning I stopped by Dry Storage a boulder bakehouse sourcing tens of thousands of pounds of grain from Jones Farms Organics in the San Luis Valley    to pick up a pound of whole wheat. I chose Yecora Rojo simply because I'd never heard of it. When I opened the lid and took a sniff, the flour smelled borderline funky, making me wonder if it had already gone off     freshly milled wheat can spoil like produce, which is why I keep mine in the refrigerator. I asked one of the bakers how he usually incorporated Yecora into his baking. He said that he uses it like other hard red wheats when baking bread but that when it's milled it kind of smells like bananas, making it a good choice for sweet applications. I opened the lid and smelled it again. Indeed, it smelled like bananas. The perfect segue into this recipe. 
I've used one banana bread recipe my whole life. It was the recipe my mom used when I was a kid and it's the one my brother and I use frequently  like twice a month frequently    as adults. The recipe was passed to my mother by Mrs. Pat Swavley, the mother of her childhood best friends and neighbors in Allentown, PA. I have never sought another recipe because this one has never failed me. I've made multiple modifications out of necessity or curiosity over the years and it still produces a balanced bread. During these unknown and unpredictable times, our personal and communal resilience have been tested. This recipe has stood the test of time, altitude, and substitution. It has endured first, second and third trials by friends and family members across the country, and has worked well with many of the heritage and ancient varieties I have experimented with. My mom has had the recipe written on an index card in California for decades. I have since copied it onto my own index card, making it a constant whenever I moved locations or jobs or kitchens. Now, with permission from the powers that be, I am passing this recipe to you all. I hope it provides you some comfort and stability in this time of uncertainty.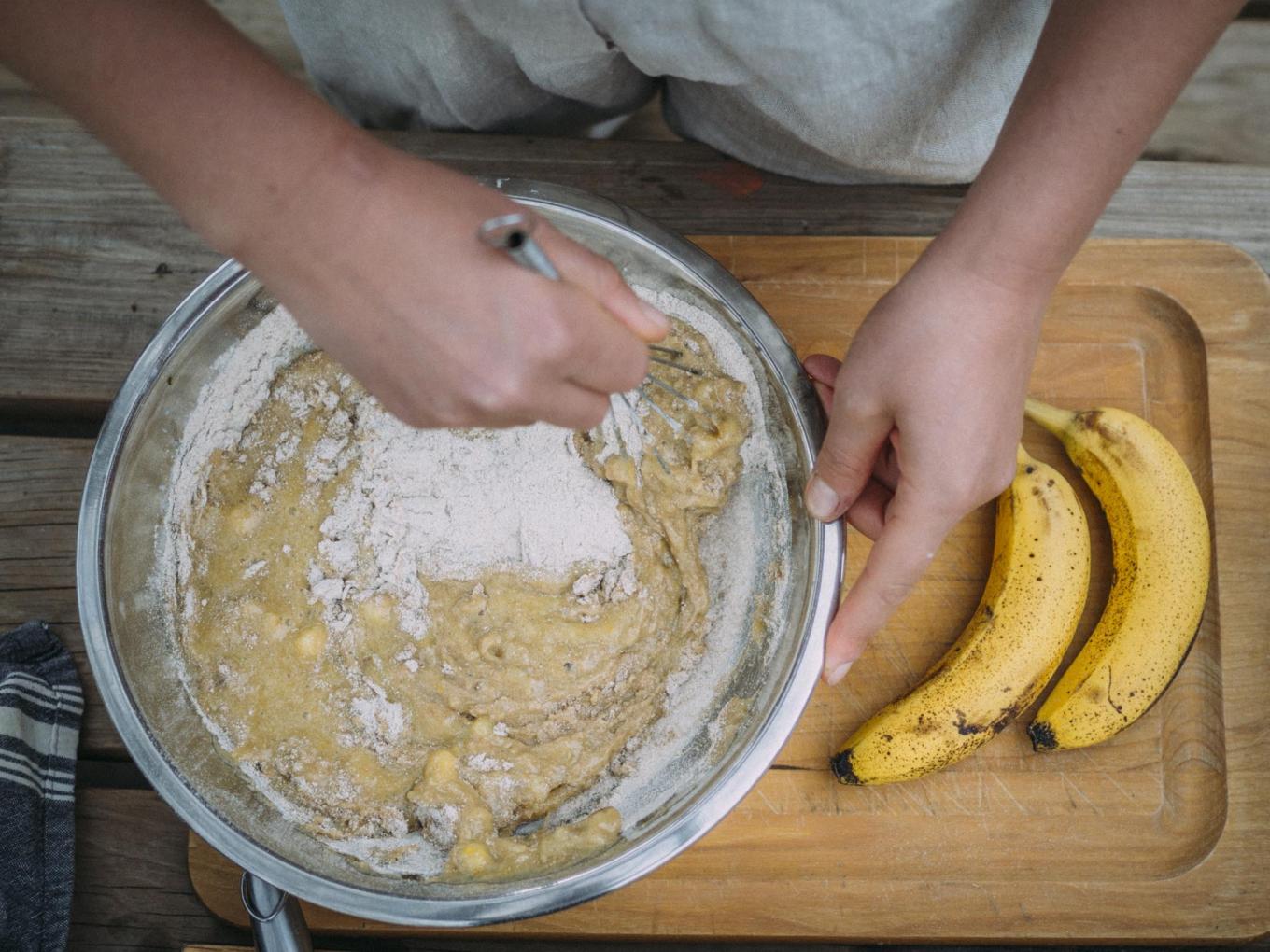 Banana Bread 
Makes: 2 loaves, 12 muffins, or one 9 x 13 inch pan. 
Start to finish: 1 hour 10 minutes
Ingredients:

Dry: 
2 ½    Cups Whole Wheat flour, I used Yecora Rojo 
1 ¼     scant tsp baking soda
1 ½     tsp salt


Wet:
1          Cup white sugar*
¾       Cup Oil, I prefer Olive oil but a neutral oil will do 
¾       Cup Buttermilk*
3         medium eggs
3-4     medium, overripe bananas, peeled and mashed


Optional: 
Walnuts, chocolate chunks, peanut (or other nut), butter swirled, sesame seeds
*If your whole wheat flour is course-milled (visible bran flakes, heavier and far darker than an all-purpose flour), I recommend using 50/50 Whole Wheat to All Purpose flour, so the bread is not too dense.
*I like to use 4 bananas and cut the sugar to ¾ cups. Makes for a more "hydrated" bread.
* If you do not have buttermilk, which I often don't, you can mix a tablespoon of fresh lemon juice into ¾ Cup milk of your choice and let sit for 5 minutes before incorporating. I've had success with non-dairy milks like oat and macadamia! 
Directions:
Preheat oven to 350 º
Oil your loaf pans. I also like to line my pans with parchment paper for guaranteed easy removal.
In a medium bowl, whisk together flour, baking soda, and salt.
In a large bowl (you're going to add the wet ingredients into this bowl so make sure it is large enough), whisk together sugar, oil, buttermilk, eggs, and mashed banana until mixture is one loose batter. I like to leave one banana out and mix it in at the very end, leaving some larger pieces of banana in the batter, which will then turn into yummy caramelized banana bites in the finished bread. Your call. 

Add dry ingredients to wet ingredients in three installments. Using a wooden spoon or rubber spatula, stir to combine. If you're adding nuts or chocolate chunks now is the time to incorporate them. Notice I say chunks, not chips. I prefer chunks and I prefer to cut them up myself. That way you can get those tiny chocolate flakes or shards in the bread too. Stracciatella style.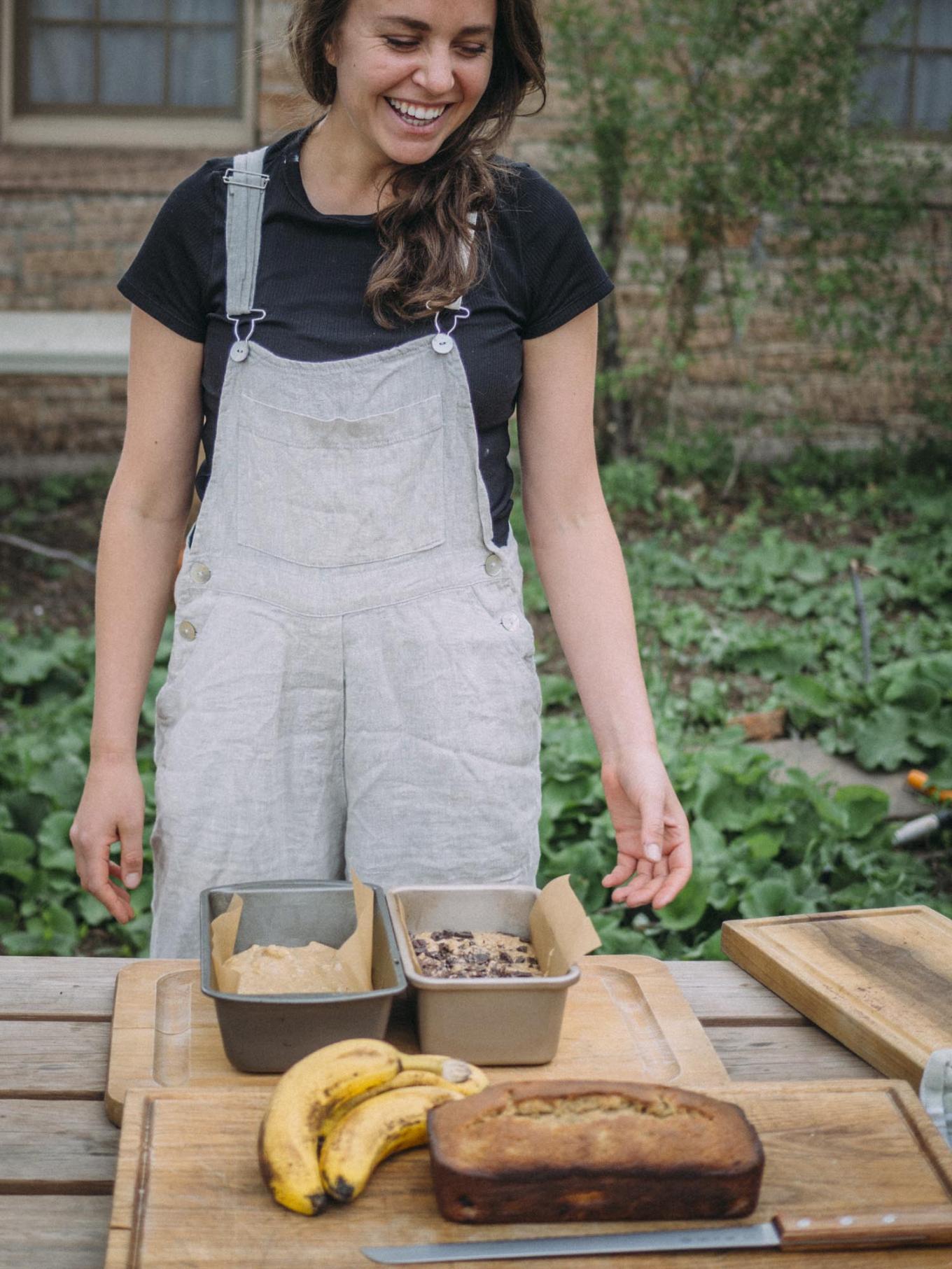 Distribute batter into pans. If you want to incorporate a nut butter, drop spoonfuls into the batter and using a butter knife, gently cut back and forth the length of the pan to create a swirl. 
Check on the bread after 25 minutes. It should have risen to its full height but is still raw in the center. Rotate the pans and bake for another 10 ish minutes. To ensure it is done, pierce the bread with a skewer or knife. If it comes out clean, it is done. Remove loaves from the oven.
Leave in the pan and let it cool on a wire rack. When bread is fully cooled, remove from the pan. Serve with coffee or tea, with fresh berries, or just a schmear of butter. 
To store: I like to leave the bread in the pan and loosely cover it with foil. The bread will lose its crunch if it comes into any humidity. It should keep this way for up to four days (I can't be certain because mine is usually consumed within two days). To extend its shelf-life, you can also keep in an air-tight container in the fridge.
Colorado Grain Revival Champions:
Colorado Grain Chain
Moxie Bread Co.
Dry Storage
Noble Grain Alliance
MASA Seed Foundation 
Black Cat Farm & Restaurant
Aspen Moon Farm 
Root Shoot Malting
UCCS Grain School
Lewis Family Farm
Jones Family Farm 
Mountain Mama Milling
Troubadour Malting
Pfz Farms
Hobbs & Meyer Farms
Pastificio Boulder
Dry Land Distillers
The Grain Lady
The Family Jones Distillery
and more…


Check out the Colorado Grain Chain for more information on the movement.