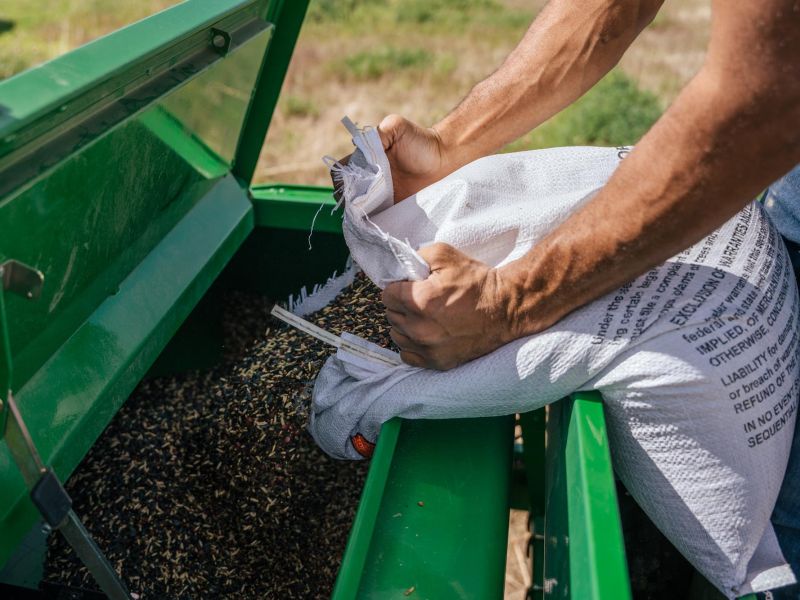 The Mad Agriculture Journal
Land-based Businesses as Ecosystems
Published on
November 14, 2022
Written by
Sophia Piña-McMahon
Photos by
Sophia Piña-McMahon
The Change-making Network Stewarded by Roberto Meza and David Demerling, Emerald Gardens
The standard view on any flight touching down into Denver International Airport is a sweeping sea of green and brown–patches of farmland stretching nearly as far as the eye can see. Most of this farmland is planted with a handful of drought-tolerant crops commonly grown in Colorado, like hard white winter wheat, sunflowers, or Proso millet. Many of the fields also lay fallow, stretching over the landscape in large squares of brown, thirsty earth. But amongst this sea of uniformity, just 30 minutes east of the airport in Bennett, Colorado, there's a farm that's doing things differently. Welcome to Emerald Gardens.
Several elements of the 35-acre piece of land home to Emerald Gardens stands in stark contrast to the surrounding monoculture fields–namely, a massive, 3,000-square-foot greenhouse, where the farm's main product (microgreens) grows year round. In addition to the greenhouse, the property also features two large shipping containers dedicated to mushroom production for a local grower (Irving Reza of Sugar Moon Mushrooms), several chickens for a pasture-raised egg operation (Cottonwood Creek Eggs), a tiny home on wheels, and three goats (Tupac, Biggie, and Snoop) guarding it all.
These are all parts of the shared vision that Emerald Gardens co-founders, Roberto Meza and David Demerling, have for a farm that grows healthy food and invites community. Now a few years into their farming journey, their land-based business is incredibly multifaceted. Beyond their work in growing food, the Emerald Gardens founders are heavily involved in work to promote health equity, food sovereignty, and environmental stewardship in the greater Denver community. Their work on and beyond the farm functions as part of a greater change-making ecosystem–one that's been in the making since Meza and Demerling first met in a high school video productions class.
STARTING THE FARM
The Emerald Gardens co-founders met in 2003 while attending high school in Ohio. In 2005, they graduated and went their separate ways, following the work that initially brought them together– film and video production. Their life and career trajectories afterwards would serendipitously bring them together again nearly a decade later.
After high school, Meza moved to New York City to pursue a career as a video artist. There, he spent time in various art residencies and doing gallery shows, before deciding to pursue his Master's degree at Massachusetts Institute of Technology (MIT). But after his first semester, Meza fell incredibly ill.
A subsequent leave of absence brought him home to Ohio, where he started looking into various ways of healing himself through food. Using the knack for building that he'd developed during his time in art studios, Meza started experimenting with rudimentary hydroponic, aeroponic, and aquaponic growing systems in his home.
"I originally built these systems just to learn, but then I thought, 'Man, this is pretty fun.' After harvesting your first lettuce leaves, you're overwhelmed by how empowering that is–that you can feed yourself and heal yourself," said Meza. "And that just sent me off on my explorations."
Slowly but surely, greater interest in and access to healthy, fresh produce helped him heal. The experience inspired him to pursue a new career in growing healthy food for others. Next thing Meza knew, he was deep in a farm apprenticeship in the middle of a local Amish community, where he spent his days learning and experimenting on a biodynamic farm. After his first season there, he was fully off of all of the medications that he'd been prescribed for his illness–and he hasn't been sick since.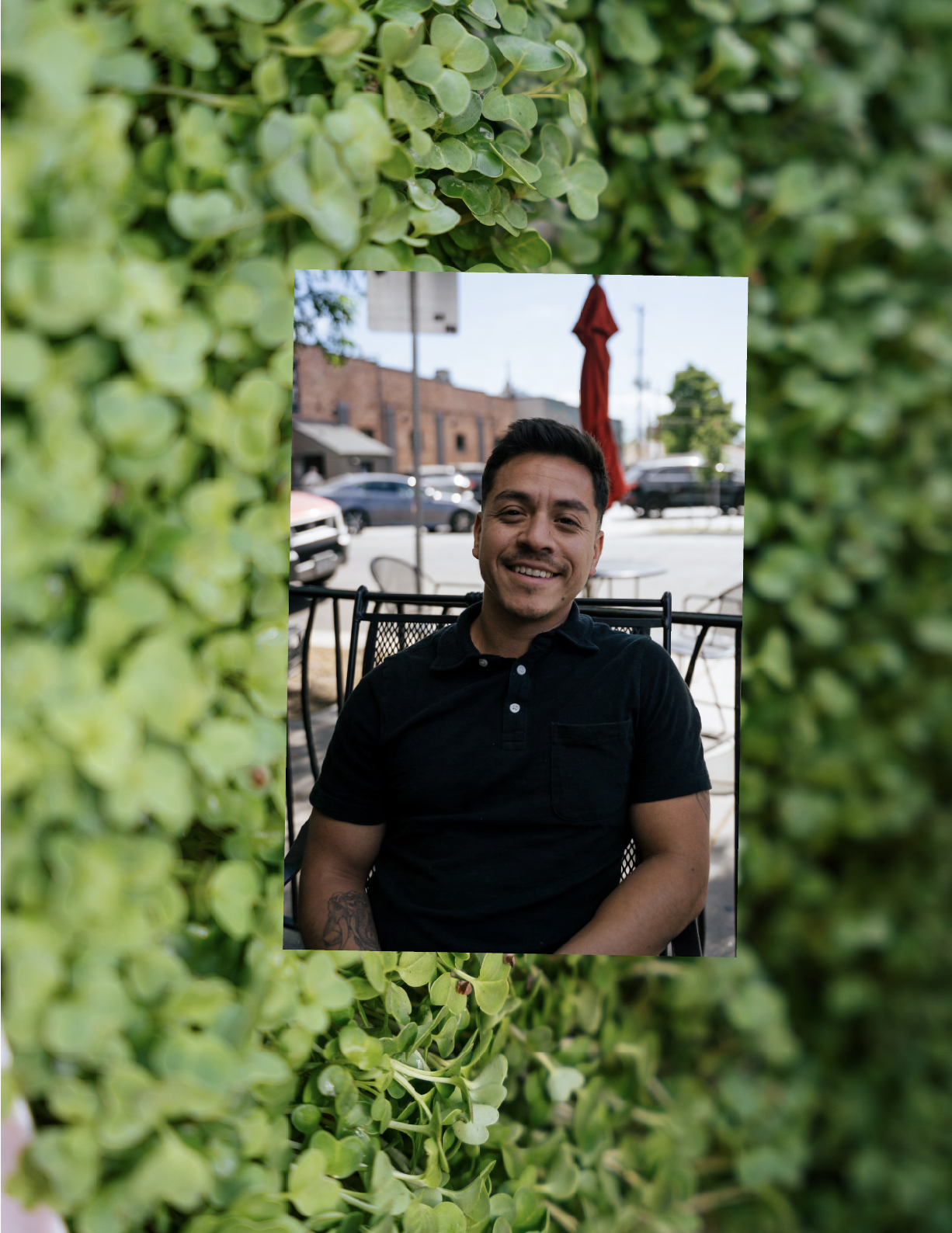 Meanwhile, Demerling had made his way to the opposite side of the country after high school. Working as a freelance video editor in California, he was spending his time in studios editing commercials and other similar video projects. But his roles lacked community and stability, with bosses changing every few weeks. After a few years, he started to yearn for a change. And similar to Meza, hydroponics caught his attention.
Using simple materials from the local hardware store, Demerling started growing tomatoes, peppers, and more all around his kitchen. Thoroughly enjoying the simple and rewarding experience of watching things grow, Demerling started to look into the business of farming, and decided that it was something he was game to pursue. He made plans to move out to Colorado and get started, but made a trip out to Ohio to visit family first.
By that time, Demerling had learned that Meza was working on the farm in Ohio, so he decided to pay his old high school friend a visit. When the two met up and he realized that they were on the same path, Demerling invited Meza to come to Colorado and start a farm with him. There, the idea for Emerald Gardens was born.
By early 2014, Meza and Demerling were both living in Colorado and working towards a shared farm vision. Their first iteration of the farm was a few 100-foot garden beds, filled with market garden crops like radishes, kale, spinach, and leeks. But they quickly realized that they didn't have a market for those crops–the barrier to entry was too high. They ended up having to eat and donate a lot of their crop that year to get rid of it.
"I ate so much spinach and kale that year," said Demerling. "A lot of leeks too–I got really good at leek and potato soup," he laughed.
Around the same time, Meza had just moved into a house, and it happened to have a small, passive solar greenhouse attached to the property. He started to use it to experiment with microgreens–the nutrient-packed shoots of edible fruits and vegetables that were making a resurgence in the culinary world at the time. The duo quickly realized that microgreens could be the niche crop that they were looking for.
Microgreens require minimal area to grow, which was particularly attractive to two young farmers that lacked the infrastructure or farmland setup that others enter the industry with. Plus, there was an incredibly low barrier to entry into the market. Meza was able to walk into just about any restaurant and sell all his microgreens. So, the duo began to focus exclusively on this crop, slowly growing their market from restaurants to local grocery store chains like Lucky's and Alfalfa's.
Building on all of the momentum, Demerling and Meza were able to officially launch Emerald Gardens Microgreens in 2017. Shortly after, they finished building their current greenhouse and even entered the local farmer's market scene, where they experienced healthy doses of interest and excitement from shoppers. Things were looking pretty good, and both founders were finally able to leave their off-farm jobs to focus on the farm full-time.
Then, 2020 came along and brought an entirely new set of challenges.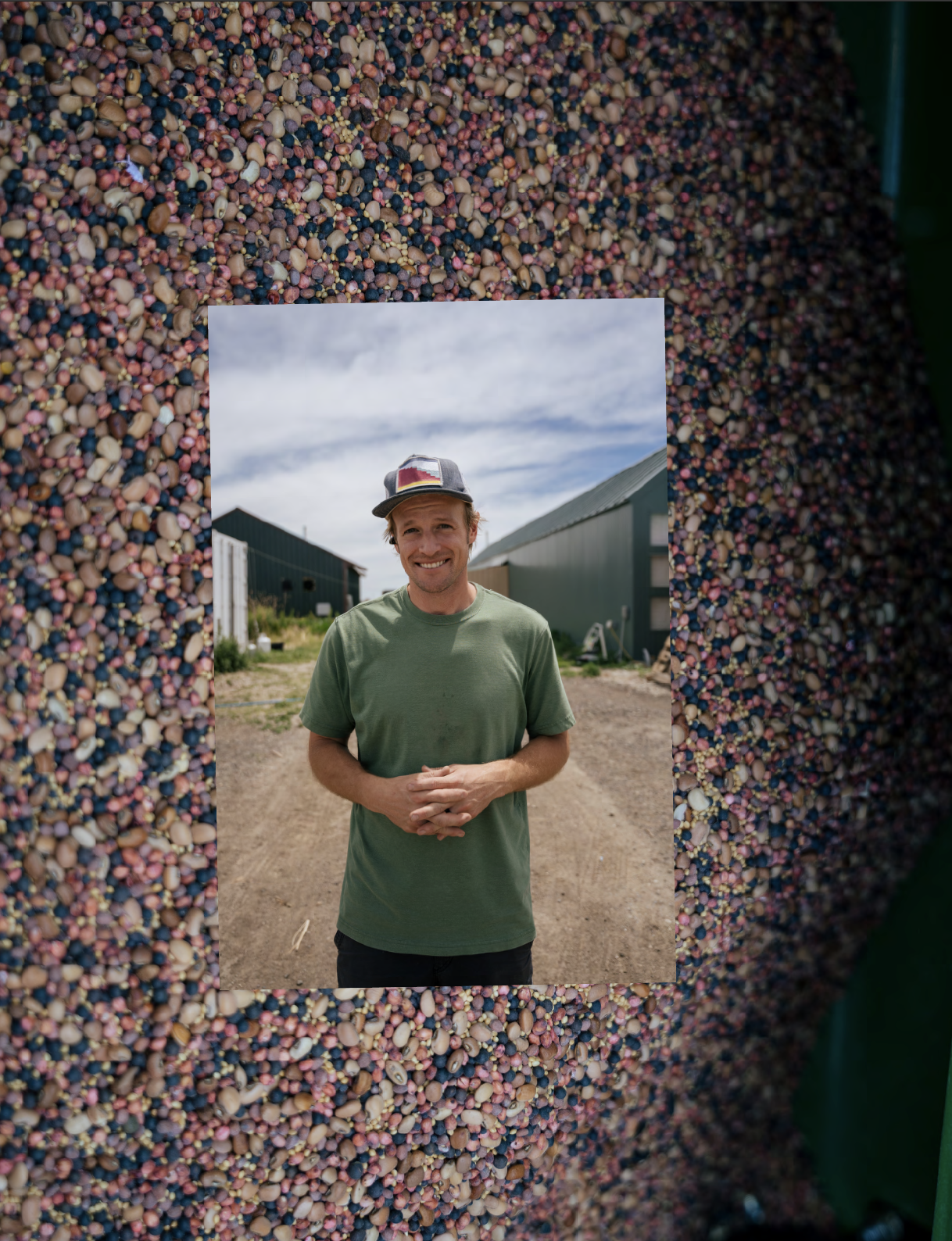 BUILDING AN ECOSYSTEM
In early 2020, Emerald Gardens received their first major blow when one of their major buyers, Lucky's Market, went bankrupt. A few months later, the world shut down in response to the coronavirus pandemic. When indoor dining shut down, Emerald Garden's lost 50% of their income. Luckily, grocery store and direct-to-consumer orders were enough to keep the farm going–but just barely.
And yet, during a time when many would've thought to throw in the towel, Meza and Demerling didn't give up. Instead, they got creative. They seized the opportunity when everything in the food supply chain was shifting to dive further into their understanding of the local market's needs–particularly the needs of marginalized communities.
In response to the food insecurity increases that they saw in their local communities, Meza and Demerling built themselves an entirely new market–one geared specifically towards addressing food insecurity. In this effort, East Denver Food Hub (EDFH) was born. It was then that their current business ecosystem started to unfold and take shape, and their work in regenerating the local food economy took off.
The idea for EDFH was born out of Emerald Gardens' earlier partnership with High Plains Food Co-op. Before the pandemic, Meza and Demerling spent one day a week packing their microgreens into boxes for the co-op, which sourced produce from a number of different growers and distributed it to members in the Denver metro area. They had enjoyed their work with the co-op, and thought the model could be another great way to get their microgreens out into the world– they just weren't sure how to do it profit-ably yet.
The duo had built a number of strong relationships with local hunger relief organizations, and were always donating anything that they couldn't sell to food pantries in the area. These relationships helped them connect with Nourish Colorado (back then known as Live Well Colorado), an organization that got them a contract with the federal WIC program to pack 70 boxes of local food a week for women and children, all sourced from local farms.
As they navigated the pandemic's disruptions to the food system, Demerling and Meza's knowledge on health equity and food justice grew. They officially launched EDFH in July of 2020 as a social enterprise, with the goal of building a model for local food aggregation and distribution that could both support local producers and increase healthy food access for all communities. They would do this through a highly unique market process.
First, local and regional producers (including Emerald Gardens themselves) sell their products to the food hub. Then, EDFH aggregates, distributes, and markets the food, selling it to individual consumers and wholesale buyers. To address food insecurity and food justice, EDFH grounds this process in compassion, equity, inclusion, and environmental stewardship. The farmers that they work with are small to mid-size and steward the environment, value their workforce, and ensure animal welfare.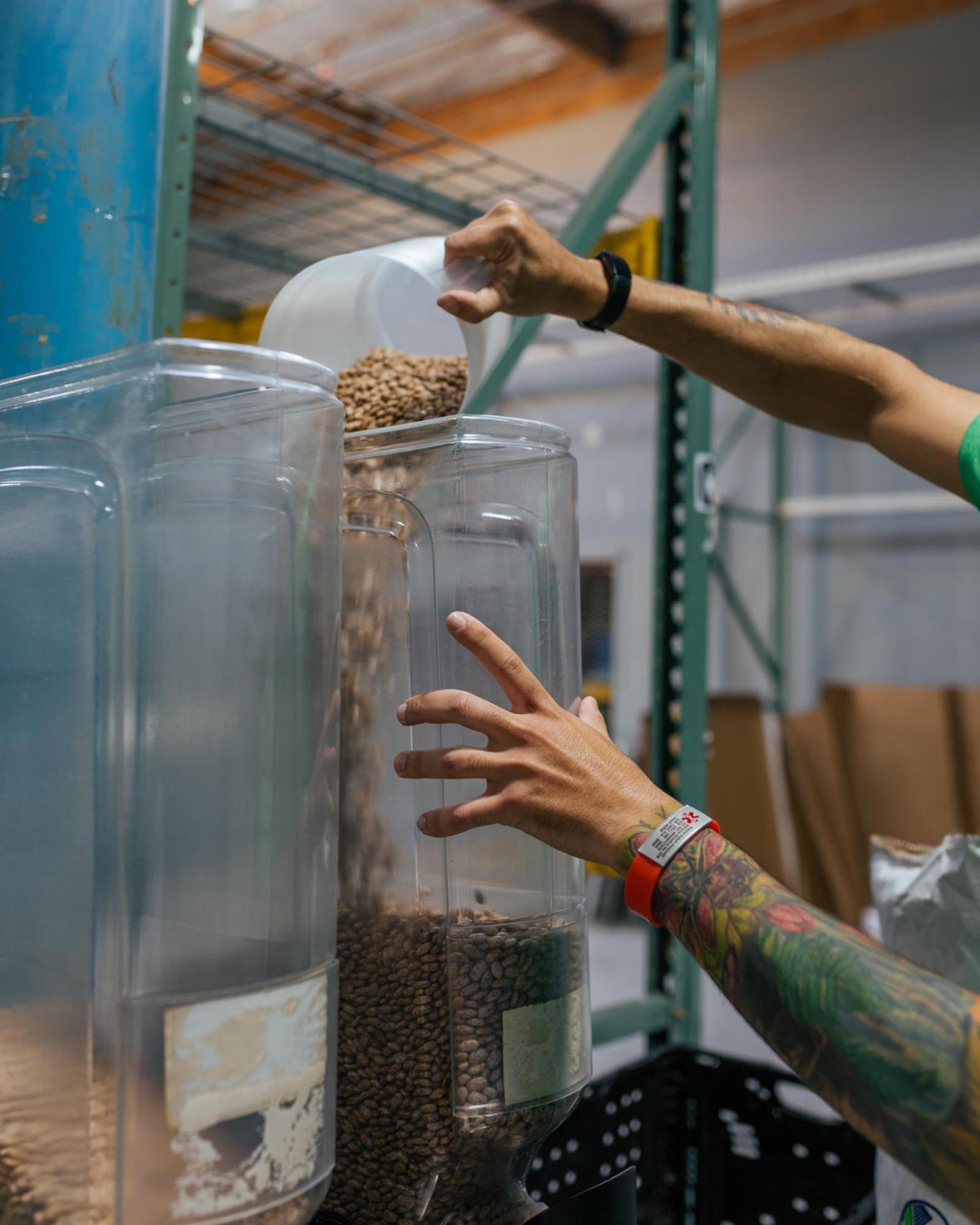 The organizations, restaurants, wholesalers, and institutions that EDFH distributes to are ones that are also actively working to create a more equitable and regenerative food economy. And EDFH supplements their sourcing and selling considerations with efforts to educate the public on the value of supporting local farmers and increasing access to healthy food, particularly through political advocacy, but also through events like pop-up markets and seasonal farmers markets.
In describing the framing of their work at both Emerald Gardens and EDFH, Meza said, "We are doing systems changing work, not symptom work." By working with multiple touch points throughout the local food supply chain, they are actively shifting and reshaping their regional food system into something entirely different–something regenerative.
"I see regeneration as an attempt to heal, repair, and re-emerge. To not just heal something, but to make it better than it was before–more sustainable and less extractive," said Meza. "I love that approach to everything that we're dealing with, whether it's political or economic. What better way to invite participation and support than by providing collective healing services, whether that's in agriculture, food, or policy?"
Now, EDFH is taking these efforts a step further. Last summer, they started hosting a biweekly market, called Montbello Community Market, at their distribution warehouse. Put on in partnership with two other local businesses (Khary's Ready Made Meals and Emunah Soaps and Essentials), the market exclusively featured locally crafted goods and locally produced food. The goal of the endeavor was to provide a safe space for supporting local small businesses while also creating an opportunity for everyone in the community to access healthy food.
The market was such a hit that EDFH and their partners decided to adapt the concept into a permanent producer and worker-owned marketplace. This new pilot program has been tentatively named Noir Co-op Market, and it will open in brick-and-mortar in the spring of 2023. It will also serve as an incubator for local entrepreneurs, running programming to help people build their businesses and skill sets.
How does all of this relate back to Emerald Gardens? While the farm, the food hub, and the market are all individual entities, they are working towards the same goal: to regenerate the health and vitality of the communities that Meza and Demerling have been a part of and have served since moving out to Colorado. Meza said that a helpful metaphor for the ways in which their entities intertwine is that of a soil food web:
"If the bacteria, the fungi, the nematodes, and the worms in our soils can all work together to ensure that plants have adequate nutrition, why can't we do that as institutions, businesses, policy advocates, strategic partners and allies to develop a social food web that can really feed our communities?"
That's what each of these different initiatives are working towards. They are different access points for underserved members of the East Denver community to find healing, whether that be through healthy food education, increased access to healthy food, or through job creation and small business support. Meza and Demerling have come to realize that in isolation, their efforts to heal the food system are just that–efforts.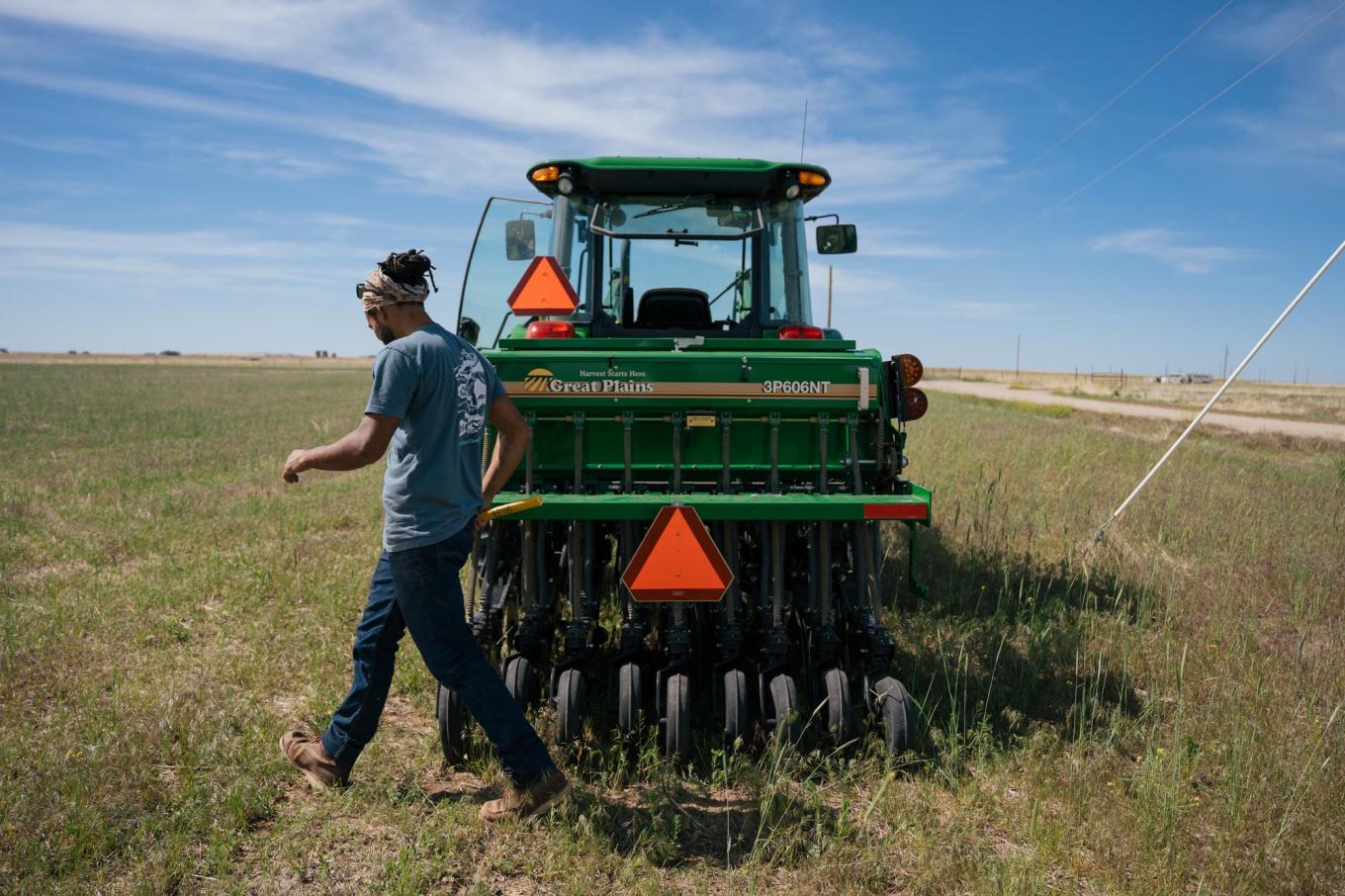 Only in the context of a community of passionate individuals, all working on specialized, complementary efforts to achieve the same goal–to regenerate communities marginalized by the current system–did they stand a chance at making significant change.
MAKING AN IMPACT
The impact that Meza and Demerling have had in the Front Range community since the inception of Emerald Gardens simply cannot be understated.
This summer, the farm is attending seven to nine farmer's markets per week, with multiple tents at each market. They were also awarded a grant through Restore Colorado, a public-private collaboration between the USDA, Zero Foodprint, Mad Agriculture, Boulder County, and other local governments that builds connections between agricultural and restaurant communities. With this grant, Emerald Gardens was able to finance the beginnings of their work to regenerate the acreage outside their greenhouse that isn't currently in production. This season, they were able to spread compost over depleted soils and seed cover crops into the field.
In EDFH's first 15 months as an organization, they were able to distribute over 500,000 pounds of food to local markets and food insecure families. Their work supported nearly 60 different farms and 10 other foods and co-ops in the region, and they made $450,000 in purchases from local farmers. They also incubated two farming operations–one for Sugar Moon Mushrooms and one for Spirit of the Sun, an Indigenous youth education non-profit–with whom they share the Bennett property that their greenhouse sits upon. And they've created several jobs at EDFH, putting money back into the community.
The success of Meza and Demerling's business ecosystem is not going unnoticed. Back in 2020, Meza was invited to speak at Congress in Washington D.C., where he provided testimony about his farm and urban infrastructure needs to the Senate Ag Committee. He continued his policy work through partnership with the National Young Farmers' coalition, where he now serves as Board President, advising the group on their own policy efforts.
Earlier this year, Meza was also appointed by Colorado Governor, Jared Polis, to serve on the Colorado Agricultural Commission, a group of nine agricultural leaders representing various regions in the state. Each member advises the Commissioner of Agriculture, the Governor, and the General Assembly on agricultural issues.
Meza brings his experience as a farmer and his insights from working in the food access community to this group, where he is promoting the wellbeing of Colorado farmers and ranchers, advocating for sustainability and equity in the industry, and building resilience in local communities. At the time of this writing, he had just contributed a successful effort to get the Healthy Meals for All ballot measure across the line, which if passed will create a new funding stream to provide free meals to all public school students in the state of Colorado.
It might seem to the untrained eye as if Meza and Demerling made a major career pivot all those years ago and never looked back. And in some ways, that is true. But just as he sees all of their work as interconnected now, Meza sees deep connections between their prior work as video professionals and their current work in food security and advocacy.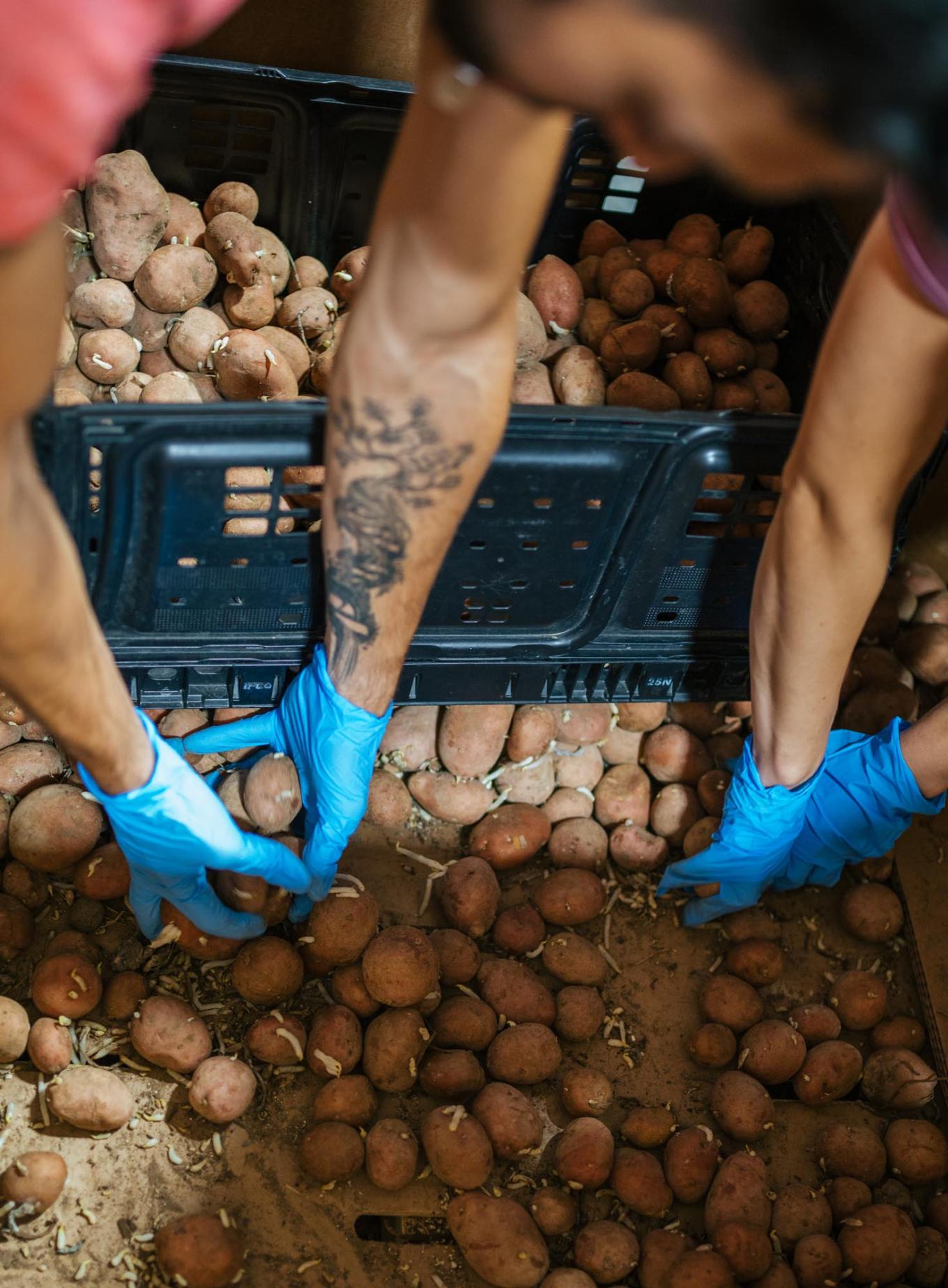 "The more that I've diversified my initiatives, the more I've started to see them like artistic mediums," Meza said. "But rather than designing an art installation, we're designing social systems. As we engage in different projects, they all feed into an understanding of the whole."
Viewing their suite of organizations and businesses as elements of a greater ecosystem allows Roberto and David to be flexible in their change-making work, adapting to each problem-solving effort based on which lever they can pull on (policy, job creation, regenerative agriculture, etc.) and the people in their communities they can partner with. Ultimately, that community is what keeps them going, and it's what drives the continued development of each of their initiatives.
In the near future, the co-founders have goals to diversify the products at Emerald Gardens and rehabilitate the soils on their Bennett property. They also want to further develop a cooperative, land-sharing model on the farm, where they can support the incubation of other farmers in EDFH's network. They are also looking forward to further developing Noir Market into a grocery and commissary kitchen space as the year rounds out.
When asked what keeps them going each day, it all comes down to the stewarding of community–whether it's the one below ground (in the soils) or above it (in the city).
"I like greens, I like things that grow. I love seeing the mushrooms every day and coming out here and seeing the mountains," said Demerling. "But also, I just like the people that we're working with. We are trying to build a community that works together and that actually cares about each other."
Meza echoed similar sentiments on caring for people. "I think there's a lot of people who are sick, and I think that a lot of the negative things happening in our world are because our systems are sick too," he said. Through the work of community advocacy, and ultimately healing–whether that be through healthy food, good agriculture, business support, or policy reform–he sees a brighter future.
"And now," he reflected, "I realize that my networks are just as microrisal as the networks beneath our feet."