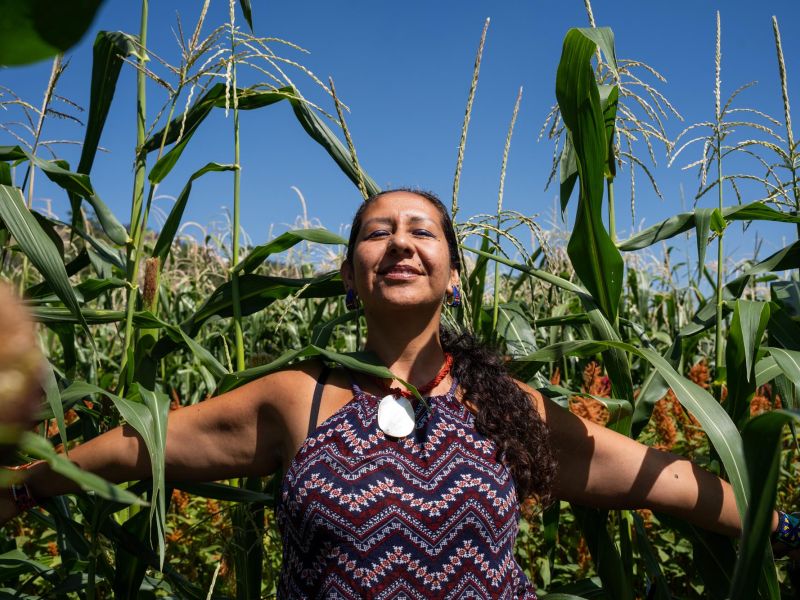 The Mad Agriculture Journal
Published on
November 14, 2022
Written by
Sophia Piña-McMahon
Photos by
Sophia Piña-McMahon
Corn, or maize, is arguably the most important food crop to have ever been cultivated on the North and South American continents. Today, the U.S. alone grows enough acres of corn to cover the entirety of Germany, and globally, humans grow more corn than any other plant on the planet. It can be found just about anywhere–whether it's in the form of a whole cob, a frozen bag of kernels, the second ingredient listed on a can of Coke (high fructose corn syrup), or ethanol blended into gasoline at the local station. From an industrial standpoint, it's the biggest success story in the history of agriculture. But from a cultural standpoint, its story is one of disconnection and loss in spirit.
Corn was first domesticated by Indigenous peoples living in the Balsas River Valley (just south of what is now Mexico City) nearly 9,000 years ago from a wild grass called teosinte. Through selective breeding, these ancient farmers turned teosinte into a food crop bearing ears of large, closely packed kernels–corn as it's recognized today. The nutrient dense grain proceeded to sustain hundreds of different tribes across the Western hemisphere for thousands of years. It migrated and adapted to a variety of climates, and took on an important spiritual role in countless Indigenous societies.
When European settlers arrived in North America, the crop's trajectory towards commodification began. Ever since, it has been largely separated from the history and traditions of the tribes that cultivated, consumed, and celebrated the crop for millenia. Traditional, heirloom varieties of corn haven't been grown on their native lands for centuries now, having been replaced by their colonized versions–just as the Indigenous peoples themselves were forced off their land by the colonizers.
Corn's rich history as the centerpiece of the Mesoamerican diet is now intertwined with the harsh consequences of food commodification: synthetic fertilizers, genetic modification, chronic illness, animal agriculture, Capitalist-driven foreign trade policy, and more.
But the spirit of the corn as tribal members have known it for centuries is not yet lost. Indigenous community members around the world are fighting for the crop's rematriation (a return to a spiritual way of life with respect for Mother Earth). Through the revival of their food and farming traditions and in the planting of the crops that their ancestors once grew, these communities are revitalizing their connection to corn and its spirit once again. In fact, it's happening right here in Boulder County, Colorado.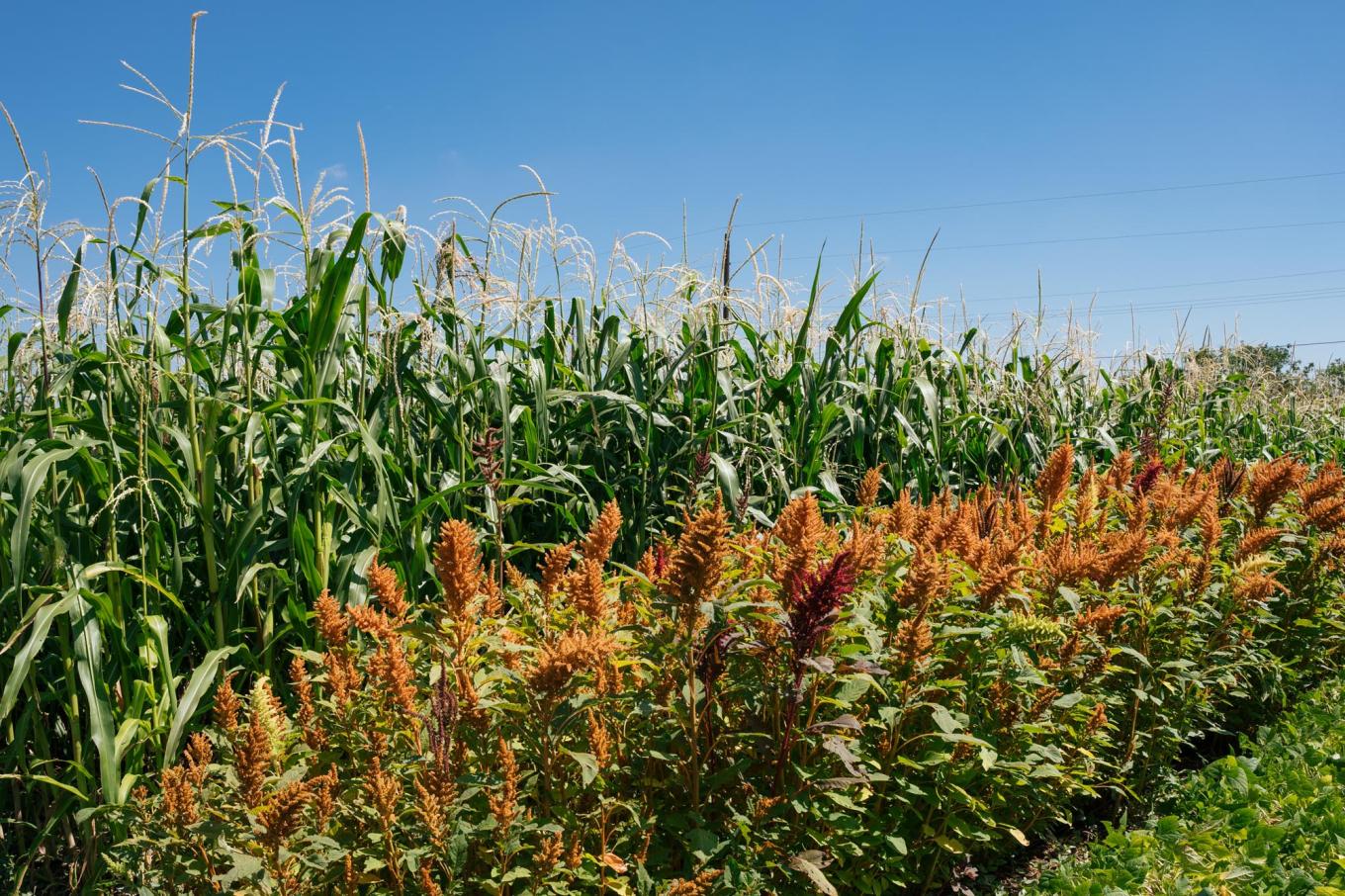 CONNECTING PEOPLE AND THE ENVIRONMENT
On October 1st, 2022, the first annual Harvest of All First Nations Corn Festival was held at Yellow Barn Farm in Longmont, Colorado. It came to fruition after nearly two years of discussions and collaborations between community members working together on environmental justice, food sovereignty, ecofeminism, Indigenous-led reparations, and regenerative agriculture. And while the festival took a village to plan and create, the event was largely a manifestation of the life's work of Andrea Yoloteotl Nawage (also known as "Yolo"), Chief Executive Director and Founder of the Indigenous-led nonprofit, Harvest of All First Nations (HAFN).
Yoloteotl grew up between Mexico, Canada, and the United States, and has been passionate about the environment and environmental justice since she was a young girl. While living in Mexico, she witnessed the impacts of poverty and social systems on environmental health, and early in her life she made a promise to herself to commit to caring for the environment and its spirit. Her passion for that care of spirit soon expanded to include people in her surrounding community.
"I cannot separate people and the environment," she said, "because people are the ones that need to come back to the land, open up their hearts and their intuitions, and understand that it is alive." Carrying this sentiment with her, Yoloteotl pursued training and mentorship with healers (curanderas) while in Mexico, from whom she learned how to perform specific ceremonies and rituals for women's health and postpartum care treatments. This work shaped the Indigenous and ecofeminist lenses through which she approaches her environmental work.
About 10 years ago, Yoloteotl moved to the U.S. and settled in Boulder, Colorado. Since then, she has been the leader of local women's support groups grounded in Indigenous ways, mentored and guided women in traditional health and healing ceremonies, participated in local Aztec dance groups, represented people of color on committees within the City of Boulder government, and given trainings on Indigenous knowledge and foodways through CU Boulder-led sustainability programs. All of this community work, which spanned over the last decade, brought her to the people that would become her primary collaborators in the creation of the first annual HAFN Corn Festival.
CULTIVATING COMMUNITY
The inspiration to start a local, Indigenous-led festival around corn came during Yoloteotl's time working with a CU Boulder-led program called Foundations for Leaders Organizing for Water and Sustainability (FLOWS). The program serves as a platform for environmental and social justice leadership and education, cultural education, and skills-based capacity building to uplift and empower marginalized groups in their climate justice work. It is led by FLOWS Founder, Michelle Parish, as well as Rinchen Indya Love, the FLOWS Program Coordinator.
"FLOWS is intentional about disrupting existing power dynamics and focusing on the resilience, adaptability and capacity to thrive of these communities," Indya said. Before the COVID-19 pandemic, a large part of FLOWS' work was physically going into people's homes and teaching them about at-home sustainability strategies, like water conservation and sustainable gardening. But when the pandemic hit, they had to pivot to a series of online workshops delivered via Zoom. Yoloteotl led one of these workshops, which explored the connection between culture, identity, climate and food through the story of corn from the Indigenous perspective.
Her talk was such a hit with FLOWS participants that she was invited by Elena Aranda, Executive Director of local Latino organization, El Centro Amistad, to give a similar talk at one of their summits for BIPOC women. Many people at the summit were of southern origin, and being immersed in their community reminded Yoloteotl of the festivals that she knew of back in Mexico that celebrate traditional crops like amaranth, cacao, and corn. Knowing that corn could serve as a throughline for discussions around food justice and food sovereignty, land back movements, and environmental justice all at once, Yoloteotl, Indya, and their collaborators at Amistad were moved to action. "If we need to grow corn, then we need land. And if we need land, then we need land back," said Indya. "Then, we can have a festival on our land."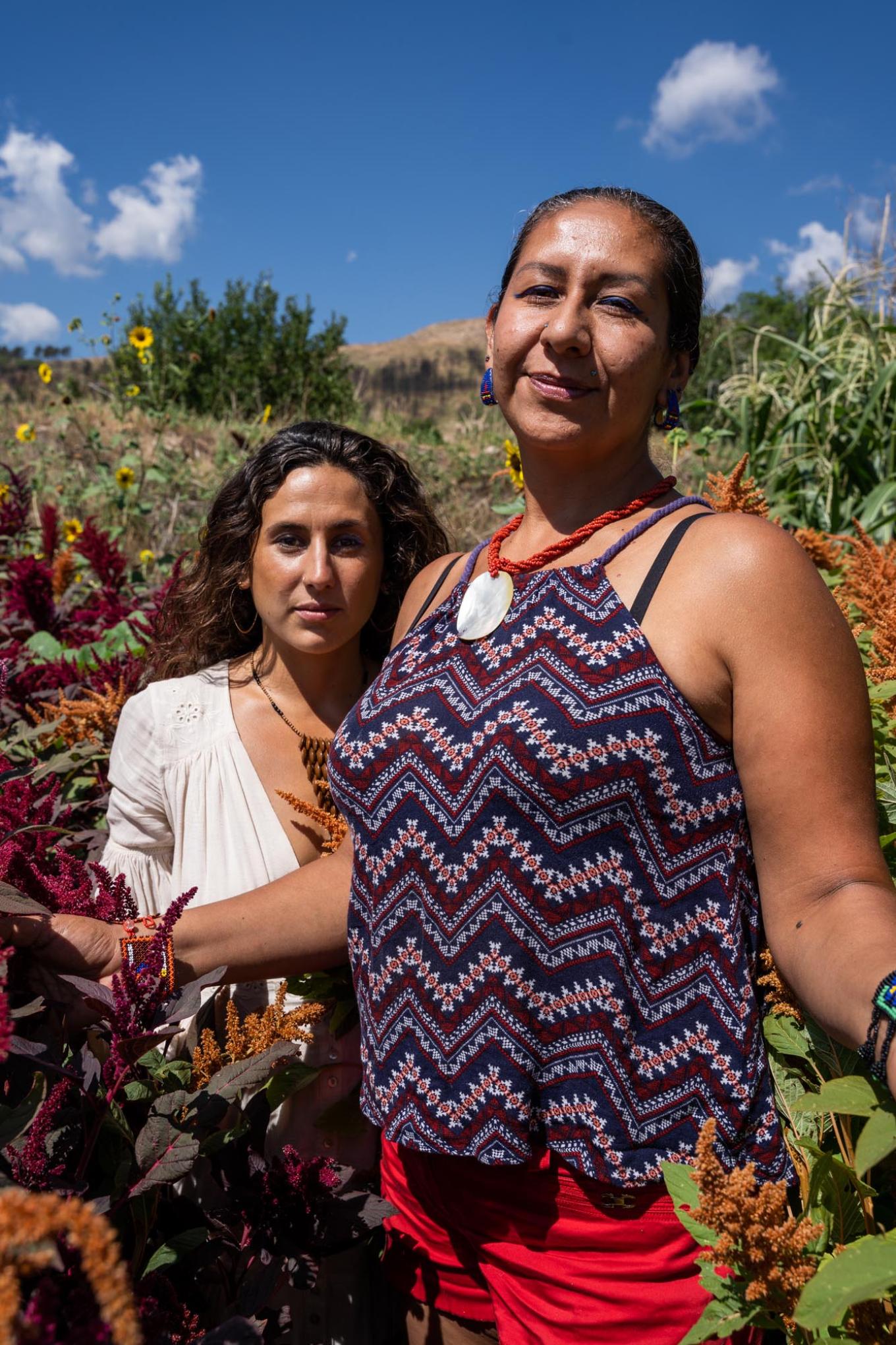 From there, Yoloteotl met consistently with FLOWS and El Centro Amistad for two years to strategize and plan the event. The planning group included key representatives of the local land in their discussions too, including members of the Arapahoe, Cheyenne, Shoshone, Ute, and others of the 47 tribes that used to gather and exchange culture, food, and language in the region–taking great care to ensure that the festival would be inclusive for as many tribal nations and cultures in the area as possible. The level of intention in this effort was so deep that it inspired the name of the corn festival itself, which came to Yoloteotl one night in a vision.
"I started to pray about it all, asking the Spirit for guidance. One night, I heard them saying, 'Harvest of All First Nations. That's the name that you need to carry. Harvest of All First Nations Corn Festival," she recounted. From there, the HAFN nonprofit began to emerge.
FINDING LAND
One of the most important considerations for Yoloteotl and her collaborators throughout their planning was accessing land, upon which they could hold their festival. In particular, they wanted access to land that they could grow Native corn and other traditional crops on–in other words, farmland. The festival would have the most impact if people could interact with the corn from land to table.
But finding a values-aligned landowner or land manager was no simple task. According to the 2017 U.S. Census, a mere 1% of all farms in the state of Colorado have an Indigenous producer present on the land (let alone managing it). Boulder County is even less representative–a miniscule 0.3% of farms in the county have Indigenous producers on the land. Thus, Yoloteotl and her collaborators had to talk extensively with other community members to figure out where they could access land, reclaim it, and re-establish Indigenous connection to the soil. That's where Marissa Pulaski, Co-Executive Director of local regenerative design non-profit, Drylands Agroecology Research, came in.
Pulaski grew up with a similarly strong connection to the environment as Yoloteotl. Ever since she was a young girl, she has felt an intimate connection with nature. "Growing up, my best friends were the trees and the ocean spirit," she said. "I always had a deep connection with Mother Earth."
Pulaski's passion for the natural world led her to study at Naropa University, an institution that specializes in degree programs that blend academics with the arts, mindfulness, and community engagement. There, Pulaski majored in Environmental Studies and the Psychology of Health and Healing, with a strong focus on plant spirit medicine and environmental justice.
Following her schooling, Pulaski's work led her to Elk Run Farm, the property where she has been working for years now with her partner, Nick DiDomenico. Together, they've shared a mission to revitalize the formerly-desertified landscape that the farm sits upon into a lush, thriving ecosystem through regenerative design principles.
Through the experience of revitalizing that landscape, the duo realized that they could apply the same patterns and principles of regenerative agriculture to other areas that are desertified, toxic, barren, and often overlapping with marginalized communities. So together, Pulaski and DiDomenico founded their own non-profit, Drylands Agroecology Research (DAR), with a mission to restore both the Earth and communities through regenerative design. Their work comprises four key areas of focus–regenerative design, research, cultural advocacy, and education. Pulaski's role is in heading up the cultural advocacy and education efforts at DAR. She ensures that all of their projects are inclusive and actively working with marginalized populations in the community.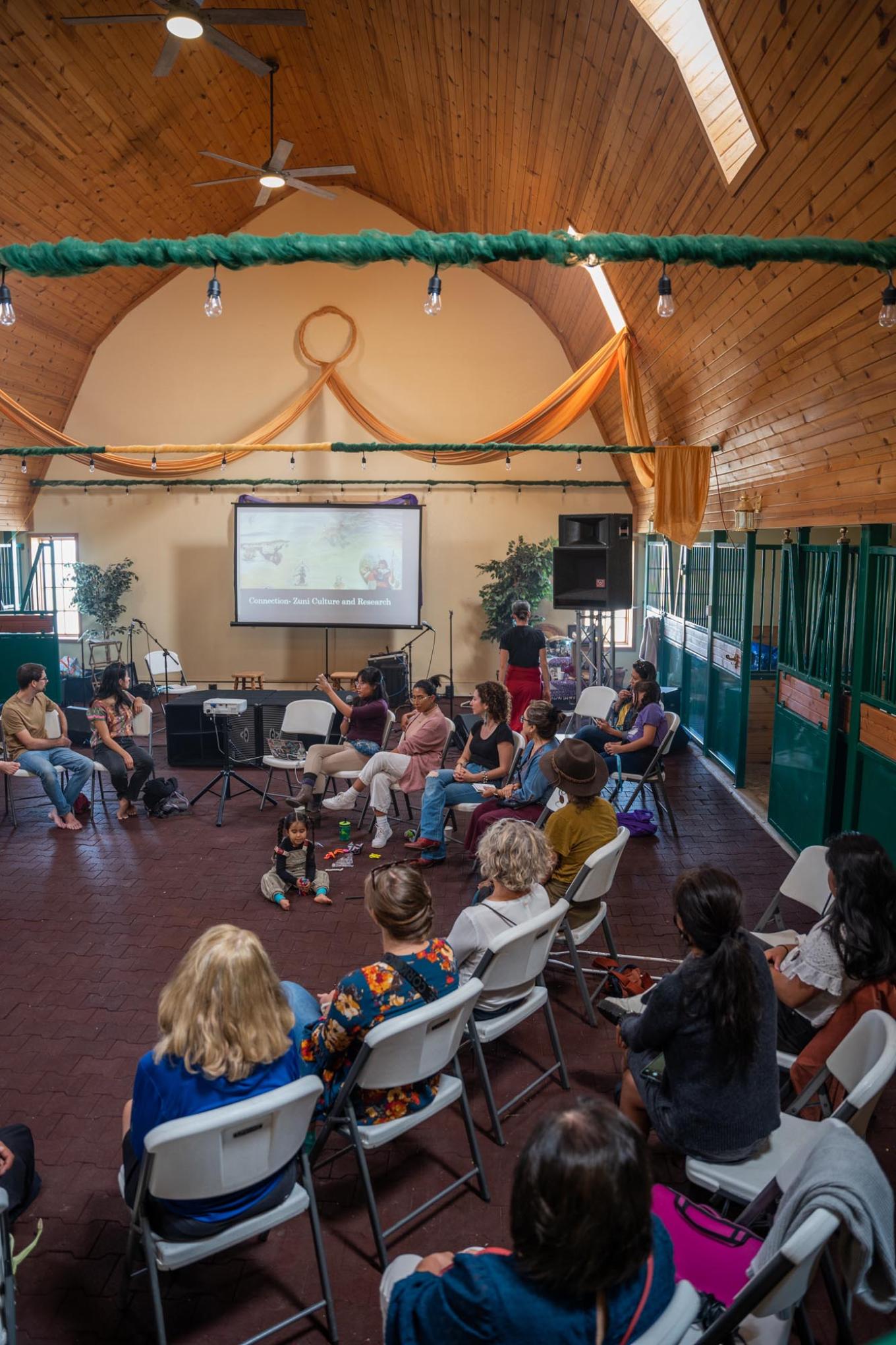 One such project was the restoration of the land at Yellow Barn Farm, a property that was once a dairy, and more recently an equestrian farm. Located just four minutes down the road from Elk Run, the owners of Yellow Barn had grown interested in regenerative agriculture. When they heard about their neighbors' work through DAR, they hired them to help revitalize their land.
As DiDomenico and Pulaski worked to repair Yellow Barn's soil, they sectioned off about an acre of land at the front of the property for a market garden. "I prayed and prayed about how I could get that plot of land to become part of a food sovereignty project for a community in need," said Pulaski. In her heart, she knew that the space that she was creating was going to be used for something special. That's when Yoloteotl came along and shared her festival vision with Pulaski.
The two women had actually known each other for many years prior, having originally connected through moon dancing ceremonies–a traditional Aztec ritual focused on gathering women to heal ancestral trauma through dance. They subsequently built a working relationship, and starting collaborating on projects surrounding women's health, including traditional postpartum care treatments.
Because Pulaski and Yoloteotl had built a strong relationship together over years of intertwined community work, they knew that they could trust each other and collaborate at a high level. When a member of the community suggested Yellow Barn Farm as the location for the corn festival, Yoloteotl realized that Pulaski's non-profit was conducting the regenerative design on that farm. When she brought her festival needs to Pulaski, their recent work and values aligned perfectly.
"We had this piece of land that was being prepared, and Yoloteotl had a vision and a dream, all of which came through the Spirit of the Corn," said Pulaski. "It was just obvious that this garden was where we needed to plant the food that she required."
DAR immediately got to work planting an array of diverse, Indigenous varieties of seeds in their garden. Some came from the nearby Hopi reservation, and some had been passed over from their friends at Spirit of the Sun, a local Indigenous-led nonprofit. The resulting crops included jasmine tobacco, drought-tolerant grains such as chihuahua blue corn, amaranth, and sorghum, Hopi black beans, and more.
Each seed was treated as sacred, and all were planted with support from the communities that they originated from. Yoloteotl took special care to ask members of the local Indigenous communities what they would want to be planted there, ensuring that the food they were growing was the food that their people needed. As the seeds were planted, ceremonies were held in tandem to ask the spirits of the land to protect the crops, help them grow, and invite the right people to come and connect with them.
Reflecting on the entire festival planning experience, and on the efforts to find and reclaim land in particular, Yoloteotl described it all as nothing short of a beautiful journey. "We haven't been forcing anything," she said. "Things have developed so organically, and it's beautiful to look back and see how Spirit has been opening the doors and bringing in so many resources for us."
"It's like this movement has spirit," she said. "We feel it through Corn Mother [a figure from some Indigenous tribal legends, to whom the origin of corn is attributed]. She is the one who has come to us and said, 'It's time to feed the people.' She's given us the opportunity to get back the essence of who we are through connection with the land."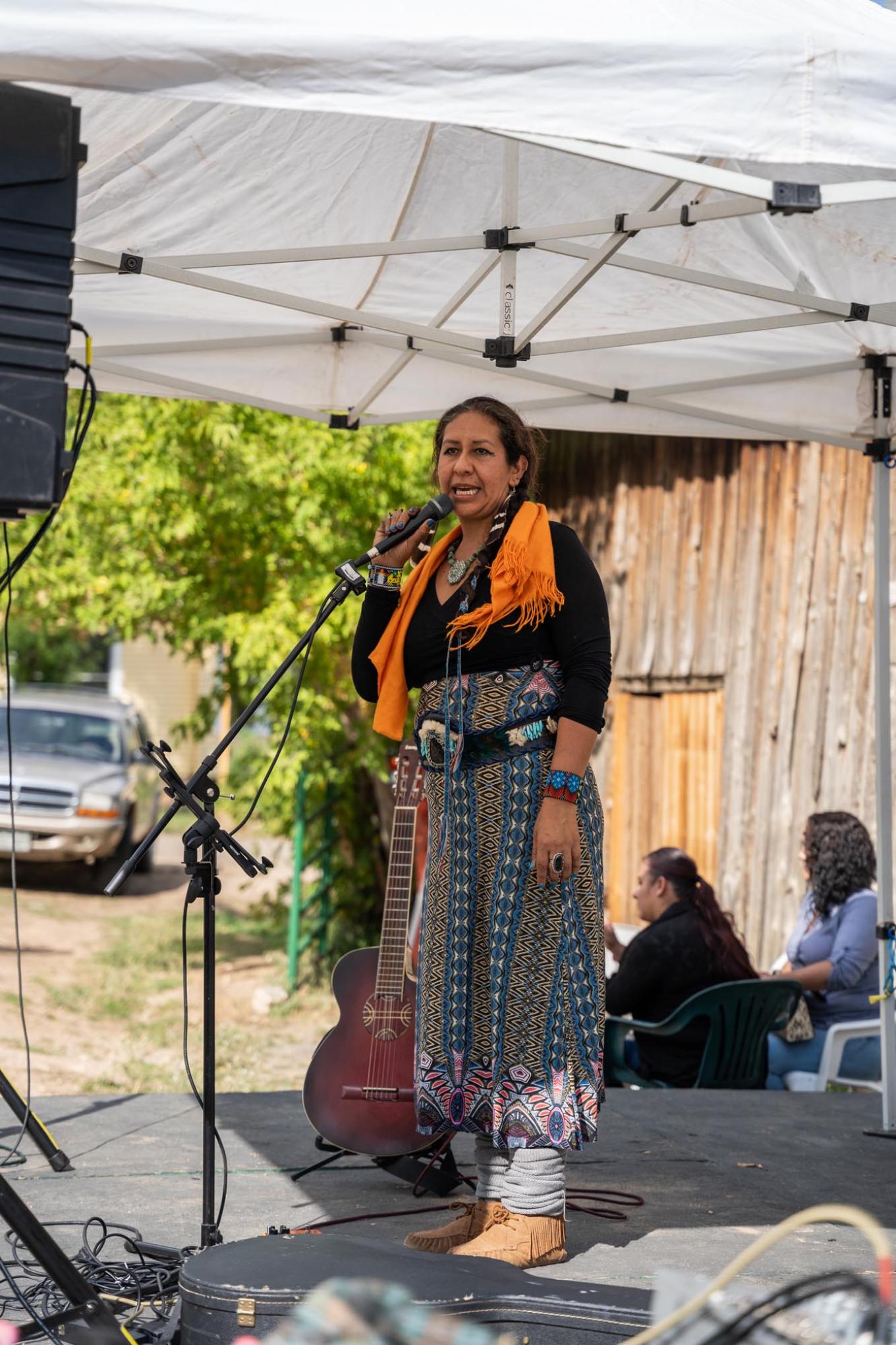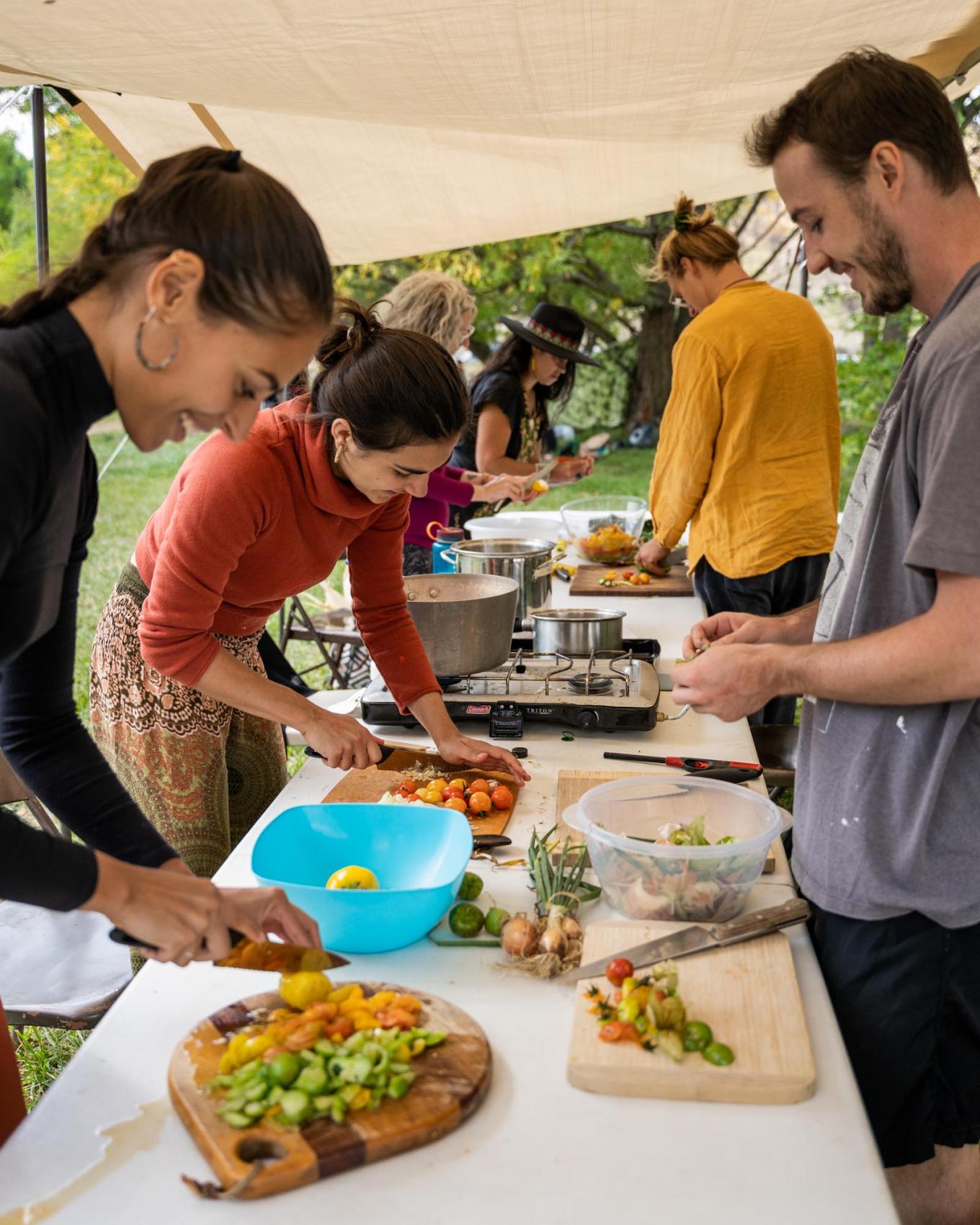 CELEBRATING THE CORN
After two years of planning, and with land in their possession and ancestral crops planted in the ground, the HAFN corn festival finally began to take shape. The HAFN nonprofit was officially founded to help the planning team raise money for the event. And as they garnered more and more support, they were able to hone and finalize their focus for the event. It would serve primarily BIPOC and underserved communities through education, ancestral healing practices, and reclamation of Indigenous Knowledge and lifeways. In doing so, the festival collaborators hoped to advance health equity, support food justice and land back movements, and help BIPOC peoples in their community to reconnect with the land.
With corn as the throughline, they organized a full day of food, art, song, dance, educational talks, and interactive workshops, bringing spirit back to the crops and the lands that had been lacking them for far too long. By the first of October, the leaves in Boulder had changed from bright green to vivid hues of red, orange, and yellow, creating the perfect backdrop for the morning-to-night display of diversity, culture, tradition, connection, and love–for people and the planet. And while it's not always defined in such a way, that's what regeneration is.
Walking around the festival, attendees were surrounded by beautiful, vibrant displays of life in motion. The day began with land acknowledgements by Yoloteotl herself, as well as an Aztec dance ceremony and an opening prayer. Stages were set up all around Yellow Barn Farm, and each had a themed schedule, jam-packed with activities, performances, and workshops for people to see and participate in. Themes of these sessions included decolonization talks and performances, panels on environmental justice and regenerative agriculture, interactive workshops and cooking demonstrations (including corn nixtamalization, the ancestral way of preparing corn for nutritional enhancement and traditional cooking), and storytelling and short films.
All told, the festival turned out to be all that Yoloteotl, Indya, Pulaski, and countless other community collaborators had hoped that it would be–a celebration of unity and connection; from person to person, and from person to land. Despite differences in histories and traditions, everyone at the festival had something in common–they were able to stand together on the land and in that moment thanks to the corn that their ancestors had sustained upon.
Whether attendees knew or felt it before the festival or not, corn and humans have a deep, almost symbiotic relationship. Indigenous peoples have known this for centuries. As Yoloteotl put it, "We see corn as our kin–a brother or a sister plant–that is here to help us as a liaison between the Earth, the water, and creation. It is here to help us all coexist." Pulaski, while sitting at her side, added, "So when we take care of the corn, we take care of our people." In other words, the corn festival wasn't just about growing and eating Native corn and bringing it back to the land that it belongs to. It was about getting people back in touch with the spiritual relationship that their ancestors had with corn.
After all, corn is a being. Like all other plants, it is alive. And when it is eaten, humans and the corn become one. Westernized education and socialization can make that idea sound farfetched. Colonized ways of thinking maintain a segregation between humans and nature. But Indigenous ways of knowing have always seen the two as one. And to that effect, Indigenous peoples have always known that the biggest relationship that exists between humans and the land is through the act of eating.
Eating is one of the only direct interactions with the land that every person must do daily to sustain life. Connecting that action to something bigger–whether you want to call it spirituality, tradition, environmentalism, sustainability, or regeneration–can help almost anyone make the connection between the need for healthy soil, healthy water, and healthy plants and the creation of healthy, thriving communities.
The first annual HAFN Corn Festival in Boulder showcased regeneration as Indigenous peoples have known and understood it for centuries. It showed that having spiritual, emotional, and physical relationships with each other and with the land can help us understand that we are part of a greater ecosystem–one that we should not be taking from, but constantly giving back to and expressing gratitude for.